Organs in the basilica of Saint-Nicolas-de-Port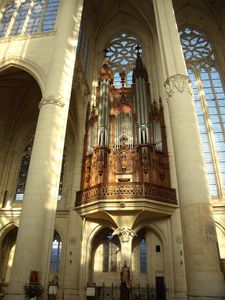 I don't always go to the basilica of Saint-Nicolas-de-Port as a tourist, sometimes I have to go there for sad events or happy ones. Today it was cold in this big building, and even more outside because of the wind. When we were free to go, we went to the tourist office nearby and I discovered it (the tourist office) is going to close next week ! Bad news. We walked back to our car by going through the basilica and I decided to take pictures of the organs to write this article.
As we were sitting and waiting one hour earlier, I noticed the details of the instrument. I had never seen the wooden statue of saint Nicolas standing in the middle of the organs before, same for the angel playing the trumpet at the top. And I had also missed the eagle, representing saint John, under the organs. Sometimes I simply wonder what I really see there as each time I go I discover something else. Is the place changing between my visits ?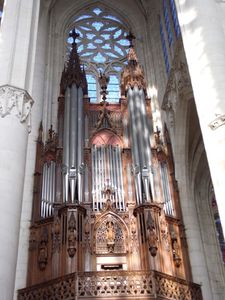 Being back home, I looked for information about the organs. This instrument is the fifth one in the basilica, it was built in the 1990s, but the buffet (the wooden part) was built in 1848 by Joseph Cuvillier. There are 3673 pipes ! The bottom of the organs is 7 meters (nearly 23 feet) above the basilica floor.
The sound is quite strong, better than the former organs. It plays a pleasant music, and sometimes with other instruments like hunting horns.
I couldn't help comparing the size of the organs of Saint-Nicolas-de-Port and Vézelise. The later was beautiful but much smaller (and much older).
The light inside was really good and the sun was shining outside. A very cold but sunny day, a good day to appreciate the architecture and details of the basilica.
Partager cet article