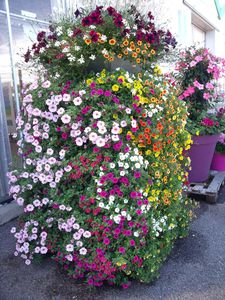 It rained on June 23rd in Lorraine, then... nothing. Temperatures started going up, and it was hotter and hotter. The whole region was concerned even the Vosges mountains.
On July 4th, the record of temperature of a day in July was broken in Nancy : 37.8 °C (100.04°F).
We were living as Spanish people very often do, when it was possible. Shutters were closed in day time and windows opened at night. There was not one fan or machine giving air and/or coolness left in shops. We avoided all the trips outside which were not necessary and tried to find air conditioned places.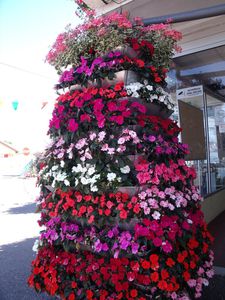 Temperatures were a bit better after July 14th but still high. And fires started in fields where farmers were harvesting barley and wheat. The machines were too hot and set fire to straw. We read a lot about these in the local paper.
A few places had short showers from time to time. Near Nancy it suddenly changed last Friday night, on July 24th. From 32°C (89.6°F) at 7 pm, the temperature went down to... 17°C (62.6°F) the following day ! And it rained.
Today it is grey, windy, cool. We sleep better but, of course, we would like the sun to come back. The typical attitude when facing the weather changes, isn't it ?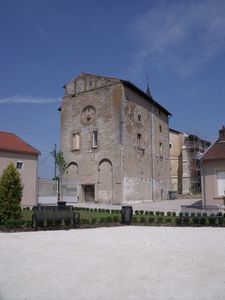 The priory of Varangéville (le Prieuré), in Meurthe-et-Moselle, was created by the monks of Gorze (in Moselle) in the 8th century.
In 764, relics of saint Gorgon were carried through the region. One day, late in the evening, it was too dark to go on with the trip and it was decided to stop in Varangéville. The relics were hanged up on a thorny bush. The following morning the bush had changed and grown a lot. That was the beginning of the priory place.
The building we can see nowadays dates from the 12th century. Only the outside is visible and needs some work to restore the old parts. The nearby church is dedicated to saint Gorgon.
And there is a very pleasant park at the back of the priory where you can sit and relax, and also a book tree like in Nancy (but only accessible during week days). A nice place to see.