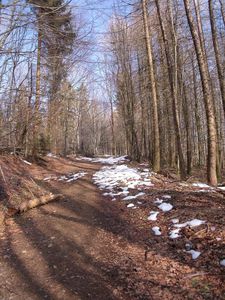 Spring started here with a sunny day, so we decided to go to the Vosges mountains to have a walk and breathe fresh air.
I checked webcams before leaving and the road was clear, no snow around.
We noticed the mist far away, and it was not possible to see the mountains till we arrived quite near.
When we started going up to Le Donon, there was a bit of snow in ditches. We remembered our children would have asked us to stop to walk in it, never mind if they had to walk with wet socks afterwards ! No problem to park the car and we started walking on a path nearby. The sky was so blue and the air so pleasant. And, in spite of other people walking too, it was very calm. Blackbirds were singing and moving near us without being frightened.
We went up till snow stopped us. My shoes were not good for that, especially as it was icy. So we turned back and finished our walk in the restaurant nearby with a hot drink and blueberry pie, sitting in the sun.
This trip to the Vosges mountains made my day. A good start for the new spring.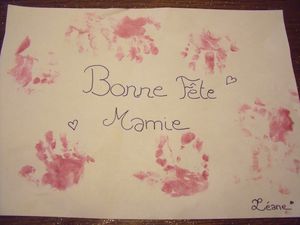 The first Sunday of March is Grandmother's Day in France. We started celebrating grandmothers nearly 30 years ago. I think it was the idea of a brand of coffee at first.
This day is not as busy as Mother's Day (the last Sunday of May this year), but we hear about it on television, on the radio and in newspapers.
For me, today is a special day. It is the first time a grandchild gives me a present.Our granddaughter was born 5 months ago and she came this morning with this drawing (on the picture) she made with the help of her mother. Such a nice idea !
Thanks to her, the last five months have been busy and different from the years before. It is pleasant to discover this baby, to look after her and to enjoy what she starts doing.
It is good to be a grandmother.