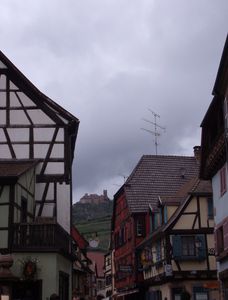 The first time I went to Ribeauvillé I was a teenager. I have stayed several weekends there and I have enjoyed discovering this town.
After so many years it has not changed and is still so picturesque.
Ribeauvillé is situated on the route des Vins d'Alsace (Alsace wine route), so is surrounded by vineyards and has castles just above it. The town has kept old houses from the 17th and 18th centuries.
The main street is full of small shops of all sorts. Of course some are offering souvenirs for tourists but there are also common shops to go to during your daily life.
In spite of many trips to Alsace I am still surprised by the colours of houses. It makes the town very lively.
A walk in April in Ribeauvillé was a good idea as it was not crowded. And the restaurant at lunch time offered good Alsatian food. No regret on this day, only happiness.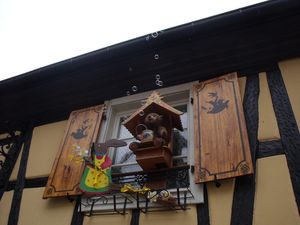 In Lorraine we don't see a lot of Easter decoration outside. Children sometimes make some at school but they don't put them in the streets. It has never been part of our tradition.
So I was surprised to discover Easter decoration in Alsatian villages, three weeks after Easter.
I missed one picture of a beautiful garden full of eggs and Easter hares in one village. In Lorraine bells bring the eggs, in Alsace Easter hares bring them (the tradition says hares, not rabbits) !
In Ribeauvillé houses and shops still showed decoration so I had plenty of time to take pictures. I forgot to ask when they take them off and what they put instead.
A pleasant tradition to discover.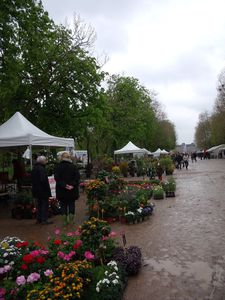 On the first of May you would expect at least a bright day. Today is (very) cool and grey and last night was very wet.
My son asked me to go with him to Lunéville castle to have a look at the yearly Fête des Plantes (Plant Festival) in the park.
Well, flowers and young bushes were beautiful, vegetables interesting but it was so muddy that we didn't really enjoy it. We managed to note some names, my son took some pictures to get ideas for his garden, but the visit was more instructive than pleasureful. I wish I had taken my boots.
We didn't buy anything as we don't know when the weather will really change. But it was a good opportunity to see many sorts of flowers together.
A morning to get a breath of (very) fresh air.