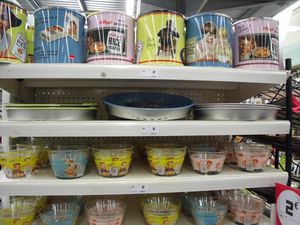 We started finding vintage products a few years ago and I thought it would disappear as usual, but on the contrary we find more and more and everywhere : clothes, accessories, kitchen tools, pieces of furniture... just as if we were going back to the past with modern material.
I took this picture in a shop of Lunéville thinking this type of illustration on boxes is very common now. I regret to have thrown away old magazines with the same pictures. Too late.
And, a few days ago, I read an article about fashion in the coming months. I was back to the 60s with mini-skirts, big patterns, houndstooth. I got the same idea as for magazines. My daughter could have worn all these clothes I haven't kept.
I know that " fashion is forever repeating itself " but I feel we are stuck in the 50s and 60s for quite a while now and that a lot of people are happy to be there. Nostalgia in front of nowadays hard times, maybe.
Lorraine is following this fashion in shops but, from what I can see, young people are more interested in wearing this type of clothes than older ones. As far as other things are concerned, I feel everybody like one or another. Does it mean vintage is now timeless and will stay forever ?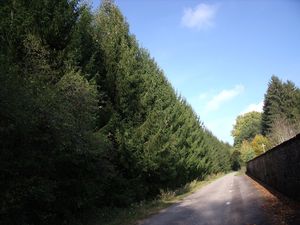 I haven't been to the Vosges mountains for several months now and I miss them. I miss all these fir trees, the smell in the woods and the colours in autumn too. So when we went to Bertrambois last week, I was really happy to see all the trees and, most of all, I was surprised to breathe so pure air.
We live in the country and I rarely complain about the quality of air, only the smell sometimes ("manure days" remind us where we are). But the air in Bertrambois was cool and... pure, I could smell the difference, definitely. This village is at the bottom of Le Donon, just at the beginning of the Vosges forests. You can find small roads, quiet places to drive around and Bertrambois is the village of my mother's family.
It has already snowed on the highest part of the Vosges, but leaves are still showing their beautiful colours from the videos we can see on television. Maybe I could do a trip there before Christmas just to stop there or on the way to visit one Christmas market.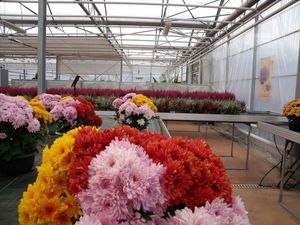 We don't work in France on All Saints' Day, or should I say that we "didn't use to work" on this day ? This year, as the first on November happened on a Saturday, quite a few shops were opened, especially to buy food. But the tradition has been kept.
A lot of people have bought flowers to put on graves. I saw chrysanthemums, heathers and cyclamen plants in shops, mainly. All this was similar to last year's choice apart from heathers. There were new pots with three colours (dark pink, pale pink and white), less classic. Cyclamen pots are not numerous as this flower is fragile when it starts freezing in Lorraine, and it could happen in the coming week.
As far as chrysanthemums are concerned, I haven't noticed one colour dominating the others. The choice of white ones was perhaps a bit more important than usual, and the colours were not as dark as last year.
I heard on the radio last week that the weather has been really good to grow these flowers. It may explain why prices were cheaper.
I forgot to mention there were pansies too. I should have taken a picture, they are always lovely flowers to look at and they don't mind our cold weather.