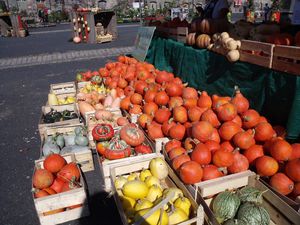 As each year the Société d'Horticulture organized its Fête du Potimarron (Red kuri squash Fair) at the end of September.
We didn't grow any plant of the same family in our garden this year, so it was a good opportunity to go and buy a few, and to enjoy being near the castle of Lunéville.
At lunch time it was not so crowded and I managed to park not too far from the fair, thinking about the bag I would have to carry on the way back to the car.
What makes this Fête du Potimarron so pleasant is the fact that the people who sell the cucurbitaceae advise what to choose depending on what you want to do with it. So I asked for red kuri squash (potimarron) for soup and purée, butternut squash (butternut) for gratin and I didn't know what to have to make jam. In the end I bought a Sweet from Berry (Sucrine du Berry) and I could not resist and bought a Bleu de Hongrie pumpkin to taste (the colour of the peel skin attracted me and I was told it is very good.- the pale blue pumpkins on the left of the picture).
Now it is time to peel, cook and enjoy.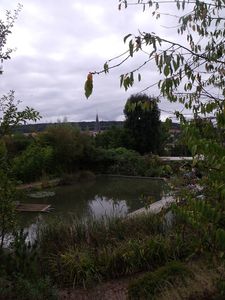 Each year we try to visit at least one place during the Journées Européennes du Patrimoine (European Heritage Days). So, on Saturday, we went to a garden in Lay-Saint-Christophe called Le Jardin d'Adoué.
This garden was created in the 1990s and is situated on a steep land on the highest part of the village. It is interesting to see how the owners managed to make flower beds, to plant bushes and trees to make a very pleasant area to have a walk around.
Visitors can also buy plants there and, for this special week end, other nurserymen were invited to give advices and to sell their plants.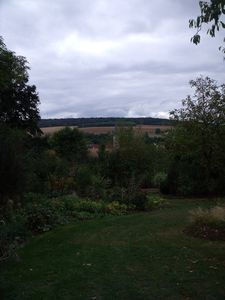 I am sure the most difficult this year was to keep flowers blooming as our weather has been so changeable. But all was quite green.
I really like the sort of islands standing on the lawn with one tree, one or several bushes and one object (a bench, a statue, a seat...). Everyone can find a favourite.
There is even a pond with ducks and a metal decoration which was really successful.
A lot of people were leaving with pots, we only left with pictures of the flowers we liked a lot and with their names, of course.