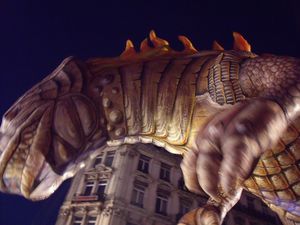 Last spring we planned a long week end in Lille to meet our English friends and we chose the last week end of September. We didn't know the town and it was more or less half way from each home.
When we arrived at the hotel, we discovered that there was a big parade on the Saturday evening in the center of the town and that the organization of all sorts of events from September was called Lille 3000 - Renaissance.
We walked to Lille Flandres station and waited for the parade there. There was a big crowd but the atmosphere was friendly.
It started with the arrival of a huge dragon. We saw it from far away. It was just like being in a film, waiting for the monster. It is strange the way our mind goes straight to films we have watched like Jurassic Park, Godzilla... From far away, we could have believed it was real.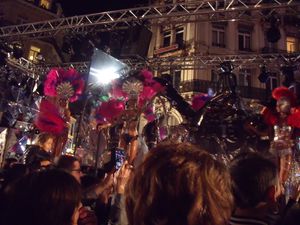 Then there was music, mostly Brazilian. And we saw dancers too, all sorts. And artists who could be coming from a circus. There were so many lights and colours.
The parade lasted for about one hour. When it was finished, we walked in the streets and saw more musicians playing for our pleasure. The center of Lille was enjoying a big party.
After a late dinner in a pleasant restaurant, we came back to the hotel. At that time, it was calmer, squares were still busy but streets were nearly empty and we were able to enjoy Lille at night.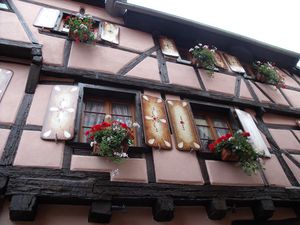 I heard about the shop in Riquewihr where Chrismas is celebrated all year long several years ago, but had not time to go till last summer.
We discovered Riquewihr and its typical streets first, "picturesque" as it is written on postcards. Then we easily found THE shop. The sign, the decoration of the shutters show you the way.
When you enter, you see all sorts of Christmas ornaments made with wood, plastic, metal, fabric. They are small or big, classical or modern, unusual or not. And the colours... Once you have decided which colours you want on your tree and in the house, you only have to choose. On top of red, gold, white, blue, you can have a lot of other colours like purple (not as common), clear (uncommon here), white with feathers (I liked the angels a lot) or crystal (a bit fragile).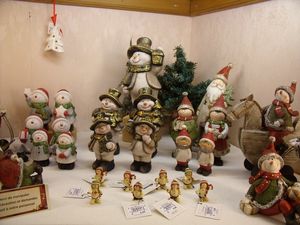 It was a bit puzzling to discover all these things related to Christmas with 30°C outside. But it was also very tempting. I felt like buying everything.
It is not like walking around a Christmas market. The atmosphere is different without cold air, people wearing winter clothes, mulled wine and all the things on sale for presents. It is just as if you were a child in a toy shop. You find all incredible reasons to buy something for your home and tree for Christmas. You "absolutely" need it. Only the cost makes you stop your shopping in the end.
(Cameras are not allowed in most of the shop, so I was only able to take a few)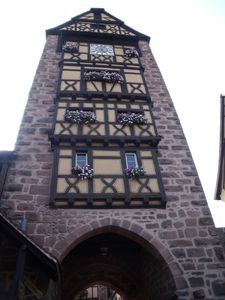 Riquewihr is surrounded by vineyards and one of the most beautiful town of Alsace.
It already existed in Roman times, then was a property of the Dukes of Alsace. Nowadays it is well known because of its wines and its Christmas market.
Riquewihr was nearly not damaged during WW2 so we can still admire the fortifications, the Dolder (a former defensive tower) where the guard of the town used to live and, above all, so many half-timbered houses.
I enjoyed walking in the streets and discovering plenty of specialities of Alsace : wines, cakes, biscuits, but also embroidery, crockery, dolls... There were so many things making me think about Alsace.
I came back home with wine (a very good gewurztraminer), a kugelhof, biscuits and a few typical goods of the region.
Riquewihr is so typical. I don't remember seeing so many traditional food and goods in such a small place. It was a complete change of scenery. So pleasant.