Vintage fashion time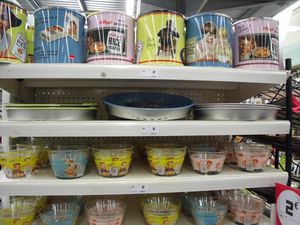 We started finding vintage products a few years ago and I thought it would disappear as usual, but on the contrary we find more and more and everywhere : clothes, accessories, kitchen tools, pieces of furniture... just as if we were going back to the past with modern material.
I took this picture in a shop of Lunéville thinking this type of illustration on boxes is very common now. I regret to have thrown away old magazines with the same pictures. Too late.
And, a few days ago, I read an article about fashion in the coming months. I was back to the 60s with mini-skirts, big patterns, houndstooth. I got the same idea as for magazines. My daughter could have worn all these clothes I haven't kept.
I know that " fashion is forever repeating itself " but I feel we are stuck in the 50s and 60s for quite a while now and that a lot of people are happy to be there. Nostalgia in front of nowadays hard times, maybe.
Lorraine is following this fashion in shops but, from what I can see, young people are more interested in wearing this type of clothes than older ones. As far as other things are concerned, I feel everybody like one or another. Does it mean vintage is now timeless and will stay forever ?
Partager cet article