Commemorative events about WW1 in Haraucourt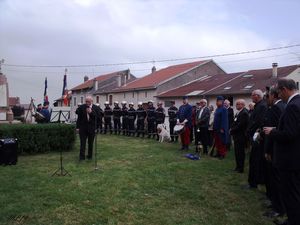 On Sunday, one hundred years later, Haraucourt organized commemorative events to pay tribute to the soldiers of the village killed during this war and to remind of the Battle of Grand Couronné which ended on the 12th of September 1914.
This special day started with a mass. The priest spoke about the Cross and the crosses of all the soldiers killed during WW1. He also mentioned his Mum used to speak to him about that war. The service finished with the reading of two letters dated 1914, a woman writing to her husband on the front line and telling him their baby was dying, then a woman writing about the corpse of her brother who she recognized thanks to socks she had knitted for him.
Then we all moved to the war memorial nearby. There were three speeches, a one-minute silence, we sang La Marseillaise. The 45 names of the "children of the village" killed during WW1 were read aloud. The Préfet, senator, deputy were present with the mayor, and also firefighters, gendarmes and members of associations. All was very solemn.
In the afternoon we listened to conferences, then to music and songs and all ended with a pigeon release to remind of homing pigeons used during WW1.
One hundred years later people came to remember, quite a lot of people compared to other commemorations. I heard they were proud to be present, happy to explain to their children or grand-children. They showed soldiers who gave their lives they are not forgotten, even in small villages.
Partager cet article