Guard stone in Vic-sur-Seille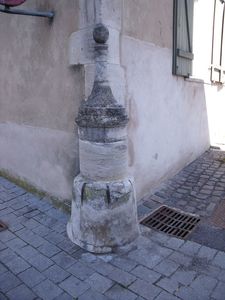 A guard stone is "a projecting stone located at the corner of walls to prevent damage from vehicle wheels" (source : Wikipedia). In French it is called a chasse-roues, a wheel chaser.
I have seen guard stones during many years without knowing why they were standing near houses. In my village there are still a few, near entry doors ; they are only about two feet high. In Vic-sur-Seille, I took the picture of this big guard stone. It is more than five feet high and one of the highest I have seen. It was useful at the time of horse drawn vehicles in the narrow streets of this small town. It is at the intersection of two streets and I am sure that nowadays cars don't bump into it.
Guard stones can be found quite easily in old parts of towns or villages. I have only seen once a house without a guard stone but with a curved wall instead, to let vehicles turn more easily.It is in Nancy and is called the Goblin's House.
Partager cet article