The castle of Vic-sur-Seille in Moselle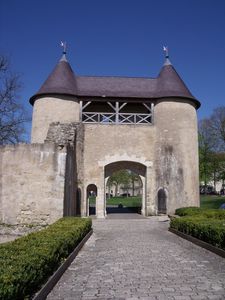 When we arrived in Vic-sur-Seille last Sunday, we discovered the spring fair was going on and that we had to park out of the center of this big village. Driving a bit further away, we found a square with children playing on the grass and just near them two big towers with the remains of what used to be a drawbridge.
In Vic-sur-Seille springs with salted water brought an important income, so important that, in the 13th century, a bishop called Bertram de Metz decided to build a fortified castle to protect them.
Later, bishops of Metz came to live in Vic-sur-Seille all year long, then to have breaks there. So they changed the castle. In the 16th century, 7 meters high towers were built to replace the old entrance building (which was higher). This is the part we can see today, with part of the moats and of a big wall.
The castle became barracks for soldiers of Napoleon and a fire destroyed a big part of it in 1815. The towers were repaired at the end of the 19th century and the work was really finished recently.
After a short walk on the castle square, we visited the village and this was another pleasant discovery.
Partager cet article