Trompe l'oeil paintings in Lunéville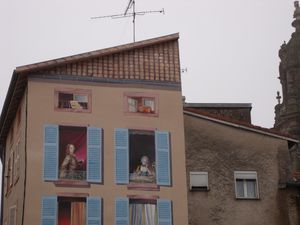 Little by little the center of Lunéville is changing. Buildings are restored and the ones which can't be are destroyed and replaced by either new ones or by small squares.
In the latter case, instead of leaving bare high walls, the choice can be to use trompe l'oeil style. For the one on the picture, we have discovered characters dressed as in the 18th century, living not far from Saint-Jacques church. They were the ones who met king Stanislas, who had their house not far from the castle.
I think that, for people who don't know exactly how the 18th century in Lunéville was, the castle and these trompe l'oeil paintings give them the right answer. And the couple near the windows seems quite happy to be there.
It is a pleasant way to hide grey walls and to give details of the history of the town to people walking nearby. This was another of our discoveries on Foire Grasse day.
Partager cet article