At the table in Lorraine, in Pont-à-Mousson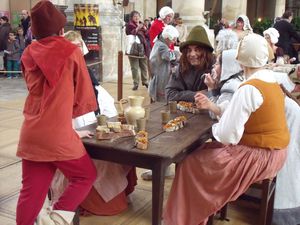 This week end the Comité d'Histoire Régionale of Lorraine organized two days about the culinary history and heritage of the region. It was happening at Abbaye des Prémontrés in Pont-à-Mousson.
About 40 associations were involved and made us discover food and cooking, of course, but also crockery, old recipes, old kitchen tools, famous people and food in their lives. Luckily we arrived at the beginning of the afternoon and I had time to enjoy things before the crowd was present.
The theme of the days A table en Lorraine (At the Table in Lorraine) was fully illustrated in the abbey church where four tables were laid : one for Middle Ages, one for King Stanislas court, one for Belle Epoque and one for WW1 time. People wearing costumes of each time were sitting or standing at the table where we could see food and crockery. Several times in the afternoon tasting was offered to people watching, it was very popular.
When we arrived, people gave us different leaflets. One shows four recipes linked to the exhibition in the abbey church. In the end I tasted the one of WW1 time : corned beef and mashed swede. It was really good (I don't say I would like to eat it every day, but it was simple and good food).
These special days are organized each year with a different theme. This week end was the 10th one but I had never heard about it before. It was really interesting and in an interesting place too.
Four tables of four different times in Lorraine
Partager cet article