Vaudémont, on the hill near Sion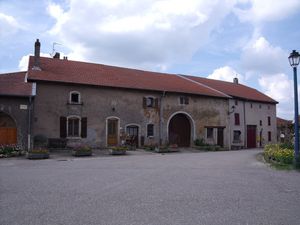 After our walk in Vézelise, we went to Vaudémont, a village situated on the same hill as Sion and Monument Barrès, in the Saintois area.
Last year I already wanted to go there to visit an old farm but didn't have time to do it when we were on the hill. This time we didn't miss it and, afterwards, we walked in the village.
Vaudémont is very quiet and has kept all the features of an old village of Lorraine. The shape of windows and doors, the barns, even the pavement in front of houses are typical, only piles of wood are missing (and manure, some people would say).
We had a go around and discovered Brunehaut Tower which was the main part of the count of Vaudémont castle. The view from this place and from the streets of the village is beautiful. You can see Sion and the basilica, and all the fields down the hill, and the Bois d'Anon, a small wood on top of a small hill which has kept a sort of round shape.
I feel that what we enjoyed most was the silence. We sat on a bench looking at the country and it was so relaxing, so peaceful. Another good afternoon.
Partager cet article