Grape picking in Lorraine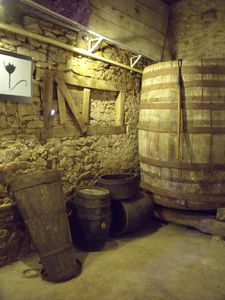 The inside of Ferme Duval in Vaudémont is full wit old things which remind us our youth and also the old times. In one corner of a barn, we saw nearly all that is necessary to make wine (barrels, grape picking basket and a sort of big vat that we call foudre).
Nowadays people only speak about wines of Lorraine by mentioning Toul and sometimes Moselle, but the region had plenty of vineyards till the beginning of the 20th century when phylloxera arrived. After this, a lot of people lost their job, their money and the ones keeping vineyards only grew them to make their wine, not to sell it.
In the area between Nancy and Lunéville, till about 40 years ago, families had their own small vineyards. As a child, I enjoyed picking grapes by hand, spending the whole day outside, then looking at men pressing grapes and all children liked a glass of vin doux, the first pressed juice, even if our stomach was protesting afterwards.
Grape harvest time was also the opportunity to be together, families and friends, to have lunch in the vineyards sitting on bales of straw and to laugh during dinner when men were having wine of the year before and were singing and joking. One day was given for each family and then people helped another one.
When seeing the barrels and basket in Vaudémont, I remembered all the laughs and men calling each other from one place to another on the hill of my village, sometimes in the fog, sometimes in the rain, but nobody complained in spite of leaves sticking to our hands, mud to our shoes. It was hard work but with such a good atmosphere.
Partager cet article