Articles avec #alsace tag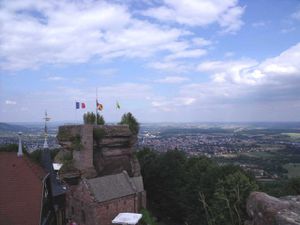 Haut-Barr Castle was built with sandstone of the Vosges mountains in Middle Ages. It stands on three big rocks. The colour of the walls is a sort of pale red, the colour of the rocks around. And it is surrounded by the local forest so you can hardly guess it when you drive on the road. Its colour hides it when you are far away and the trees hide it when you are near.
The castle overlooks the plain of Alsace and the north of the Vosges mountains. Its place was very important to see enemies coming and to protect the area.
From there you can see Strasbourg and the cathedral, and, of course, the Black Forest in Germany (when it is not misty, it was a bit on Sunday so we only guessed it).
Nowadays there are still ruins of the castle, the chapel (small but interesting) and the local Devil's Bridge to visit. And there is also a restaurant where you can stop to have a meal or just a drink.
We enjoyed our afternoon there. The view is beautiful. We were told there is a path going all round the bottom of the castle, a two-hour walk to admire the view, the plants in a peaceful atmosphere. Why not ?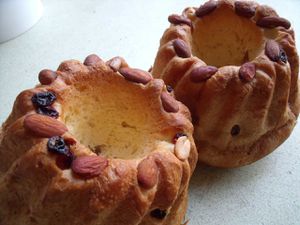 On Sunday Haut-Barr Castle celebrated Kougelhopf Day. The castle is situated near Saverne in the north of Alsace.
To enjoy our kougelhopf (or kouglof) we had to deserve it.
Of course we drove from Lorraine to Saverne. Then we arrived on the road of the castle, quite narrow and very crowded. There were lots of cars going up and down. At first we thought the ones going down were leaving, no, they were looking for a parking place. Once we reached the cul-de-sac near the castle, we had to go back as plenty of other cars did before us. In the end we found THE parking place. There were nettles on the passenger side but it didn't matter (well, not really for me, I should have left the car before parking).
From this point we started enjoying our afternoon. A pleasant path, a bit away from the crowded road, goes up to the castle. When we arrived at the bottom of the buildings, we could hear Alsatian music and two minutes later we were near tables where kougelhopfs were.
How many are we going to take ? Small, middle size, big ? Two big, please, and two slices to eat right now !
These kougelhopfs are good, really good. In Haut-Barr castle they made hundreds and at about 5 pm there wasn't any left !
I have checked the spelling of kougelhopf. In Saverne it was written kougelhopf, here in Lorraine we tend to write kouglof and there are plenty of other spellings. Now I know.
And I wondered about the shape of the cake. It is the only one I know with this shape. In another town of Alsace, in Ribeauvillé, they say it is made to look like the hat of the Three Wise Men. True, but it depends on the picture you are looking at.
.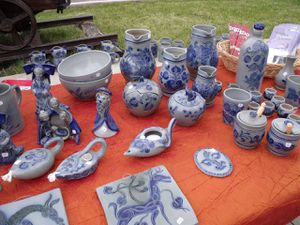 Pottery in Alsace is a very old art, it started at least a thousand years ago. Betschdorf and Soufflenheim are two villages which are very famous because of their pots, pitchers and tins.
I wanted to go there this year after watching a video about pottery on television but last week end a couple of potters came to the village. On top of showing how to make pots, there was a short film about it and we learned that to make grès au sel (salt glazed stoneware) salt is added when stoneware is in the oven and heat at about its highest point. There are special holes on the top of the oven and salt is dropped in it to get vitrification.
I have always known grey and blue pots in houses of the village. I have never looked for the place where they were made but I am nearly sure they came from Alsace and then were sold in local shops.
Big pots were used to keep salted beans in winter (I've seen it when I was young), other vegetables and also eggs. In the end, at my parents', pots were kept empty in the cellar, jars and freezers have replaced them.
On Saturday as we were standing in front of the potters' table we didn't know what to choose. The traditional pottery is now standing next to the modern one, more attractive perhaps, or easier to put with today's decoration.
In the end we chose a traditional pitcher, reminding us "the good old times".