Le Grand Ballon in the Vosges mountains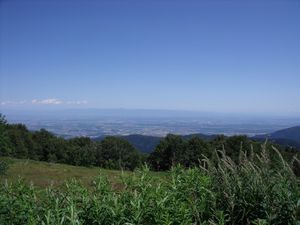 After having lunch at La Schlucht, we drove further on la Route des Crêtes and headed towards le Grand Ballon to enjoy the view from the highest point of the Vosges, altitude : 1424 meters.
The previous times we had stopped there, we only had a drink in the restaurant near the road. This time we walked up the path to the top. It is not a difficult walk, and not a long one either, I would say about one kilometer.
The view from the parking place towards the mountains of Black Forest was good but, of course, the more you walk up to le Grand Ballon the better it is. You can admire Alsace stuck between the two ranges of mountains. The long Rhine River is there but, unless you know some landmarks, it is not possible to be sure where exactly.
When at the top, we discovered the monument dedicated to the WWI Diables Bleus and the radar used by Mulhouse-Basel airport. A pity it was a bit misty, we could not see the Alps, only the Jura mountains on the south-east side. We stayed there for a while, relaxing, and appreciating the view, the calm atmosphere and also lower temperatures than down in Lorraine on this day.
Partager cet article