Col de la Schlucht in the Vosges mountains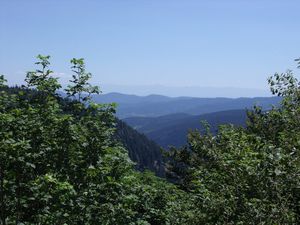 As the hottest day of the week was planned on Wednesday, we drove to the Vosges mountains to enjoy a trip on the Route des Crêtes and try to avoid the heat.
We stopped for our lunch at Col de la Schlucht (pronounce "schlurrt"), a pass at an altitude of 1139 meters. It is one of the main ways to go from Lorraine to Alsace, but we were driving on the perpendicular road to stay on the tops.
In summer people go hiking there or enjoy the long toboggan near the pistes. In winter it is a famous place for skiing. And it is always very crowded during winter holidays, a bit less in summer.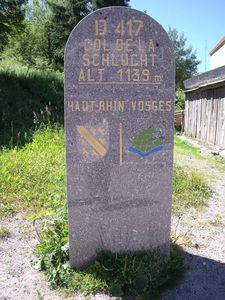 A big milestone shows the limit between the département called Vosges in Lorraine and the one called Haut-Rhin in Alsace. The first road was built around 1860 to welcome the French Emperor, Napoleon III. Before that, the road was more a private one going to a house where hunters used to meet.
From this milestone, by walking a bit down on the road towards Alsace, it is possible to see the highest mountains and more of the ski pistes.
But we wanted to driver further to try to get a bit of cooler air. So we left towards le Grand Ballon at the beginning of the afternoon.
Partager cet article