In Jardin Botanique of Nancy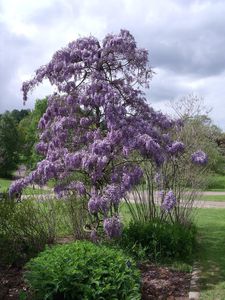 The well-known Jardin Botanique du Montet is now called Jardin Botanique Jean-Marie Pelt, from the name of a botanist and ecologist who recently died in Lorraine.
We like walking there as it is always peaceful even if it is near very busy parts of Nancy suburbs. That Sunday was grey but not too cold and we even met friends who also wanted to relax there after a pleasant lunch in a restaurant.
Our first stop was near a sort of terrace where we discovered different sorts of citrus fruit. It was very easy to recognize some of them, but for others it was more difficult or even impossible.
In fact we all know orange, lemon, grapefruit, but it becomes unusual when you see bergamot, citron, kumquat, bitter orange, and I must also mention the unknown calamondin (at least to me).
Then we discovered this beautiful blue tree. It made me think about the bright colours in Canada in autumn. Everybody was coming near to admire it. It is called Chinese wisteria.
We walked on to the lilac trees part, I will explain about it later.
Partager cet article