Muddy morning in Lunéville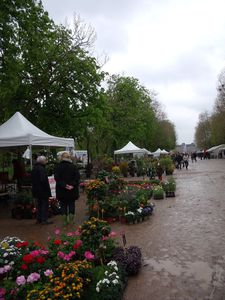 On the first of May you would expect at least a bright day. Today is (very) cool and grey and last night was very wet.
My son asked me to go with him to Lunéville castle to have a look at the yearly Fête des Plantes (Plant Festival) in the park.
Well, flowers and young bushes were beautiful, vegetables interesting but it was so muddy that we didn't really enjoy it. We managed to note some names, my son took some pictures to get ideas for his garden, but the visit was more instructive than pleasureful. I wish I had taken my boots.
We didn't buy anything as we don't know when the weather will really change. But it was a good opportunity to see many sorts of flowers together.
A morning to get a breath of (very) fresh air.
Partager cet article