Kaysersberg in Alsace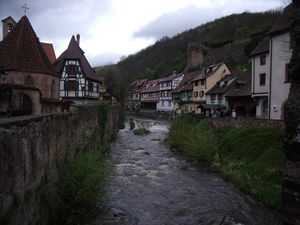 It is easy to decide to have a weekend in Alsace but not easy to choose where to go as there are so many pleasant places there.
On our way to the hotel we stopped in Kaysersberg to have a walk but also to have a drink. It was a grey day but not raining, so it was better to go around without an umbrella.
We had an Alsatian "five o'clock" and each time we enter a tearoom in Alsace I am surprised by the size of cake or pie pieces. They are... huge ! So we enjoyed a huge blueberry pie piece with whipped cream for one and a huge apple and almonds pie piece for the other, with generous warm drinks. After this good break, we were ready to walk again.
In spite of several visits to Kaysersberg, we had never noticed rue des Forgerons (Blacksmith street). There is no blacksmith there but a potter shop and this narrow street is typical.
As there were only a few tourists around on this Saturday of April, we managed to look at houses quietly. The atmosphere was very peaceful and we could only hear the noise of the river (la Weiss). I also read on the bridge that it was built in 1514, so a very old one
We were told we should come to visit the local Christmas market next time. Maybe.
Partager cet article