Grandmother's Day in France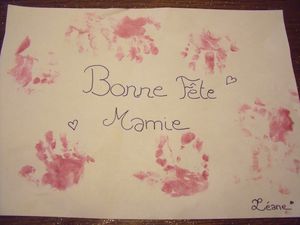 The first Sunday of March is Grandmother's Day in France. We started celebrating grandmothers nearly 30 years ago. I think it was the idea of a brand of coffee at first.
This day is not as busy as Mother's Day (the last Sunday of May this year), but we hear about it on television, on the radio and in newspapers.
For me, today is a special day. It is the first time a grandchild gives me a present.Our granddaughter was born 5 months ago and she came this morning with this drawing (on the picture) she made with the help of her mother. Such a nice idea !
Thanks to her, the last five months have been busy and different from the years before. It is pleasant to discover this baby, to look after her and to enjoy what she starts doing.
It is good to be a grandmother.
Partager cet article