Ypres, a pleasant town in Flanders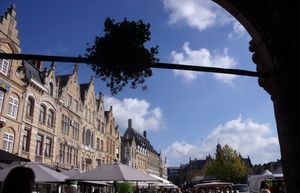 We went to Ypres to see the Menin Gate Memorial, but we really enjoyed walking around the old center of this town situated in West Flanders.
First the architecture of the buildings is so different from here. And the work done after the war to rebuild the town is very impressing.
We admired the Cloth Hall but didn't climb up the belfry. St Martin's cathedral is also beautiful.
It was market day and we had a look around. Of course, it was similar to our French markets. The atmosphere was cheerful and there were a few things we were interested in. Then we had lunch on Grote Markt square, i.e. we didn't leave the market square.
It is difficult to imagine that poison gas was used for the first time in this area in 1915. This gas was called Mustard gas, then also known as Yperite from the name of the town.
We spent the whole day in Ypres, visiting the Memorial and the town. It was a good time.
Partager cet article