Riquewihr, a medieval town of Alsace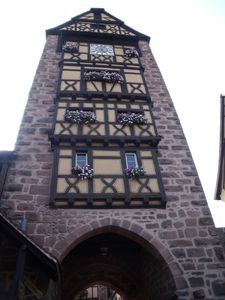 Riquewihr is surrounded by vineyards and one of the most beautiful town of Alsace.
It already existed in Roman times, then was a property of the Dukes of Alsace. Nowadays it is well known because of its wines and its Christmas market.
Riquewihr was nearly not damaged during WW2 so we can still admire the fortifications, the Dolder (a former defensive tower) where the guard of the town used to live and, above all, so many half-timbered houses.
I enjoyed walking in the streets and discovering plenty of specialities of Alsace : wines, cakes, biscuits, but also embroidery, crockery, dolls... There were so many things making me think about Alsace.
I came back home with wine (a very good gewurztraminer), a kugelhof, biscuits and a few typical goods of the region.
Riquewihr is so typical. I don't remember seeing so many traditional food and goods in such a small place. It was a complete change of scenery. So pleasant.
Partager cet article