Lille 3000-Renaissance, the parade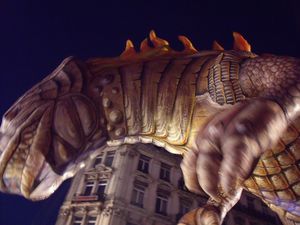 Last spring we planned a long week end in Lille to meet our English friends and we chose the last week end of September. We didn't know the town and it was more or less half way from each home.
When we arrived at the hotel, we discovered that there was a big parade on the Saturday evening in the center of the town and that the organization of all sorts of events from September was called Lille 3000 - Renaissance.
We walked to Lille Flandres station and waited for the parade there. There was a big crowd but the atmosphere was friendly.
It started with the arrival of a huge dragon. We saw it from far away. It was just like being in a film, waiting for the monster. It is strange the way our mind goes straight to films we have watched like Jurassic Park, Godzilla... From far away, we could have believed it was real.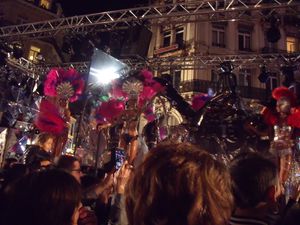 Then there was music, mostly Brazilian. And we saw dancers too, all sorts. And artists who could be coming from a circus. There were so many lights and colours.
The parade lasted for about one hour. When it was finished, we walked in the streets and saw more musicians playing for our pleasure. The center of Lille was enjoying a big party.
After a late dinner in a pleasant restaurant, we came back to the hotel. At that time, it was calmer, squares were still busy but streets were nearly empty and we were able to enjoy Lille at night.
Partager cet article