Christmas forever in Riquewihr in Alsace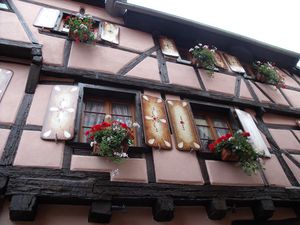 I heard about the shop in Riquewihr where Chrismas is celebrated all year long several years ago, but had not time to go till last summer.
We discovered Riquewihr and its typical streets first, "picturesque" as it is written on postcards. Then we easily found THE shop. The sign, the decoration of the shutters show you the way.
When you enter, you see all sorts of Christmas ornaments made with wood, plastic, metal, fabric. They are small or big, classical or modern, unusual or not. And the colours... Once you have decided which colours you want on your tree and in the house, you only have to choose. On top of red, gold, white, blue, you can have a lot of other colours like purple (not as common), clear (uncommon here), white with feathers (I liked the angels a lot) or crystal (a bit fragile).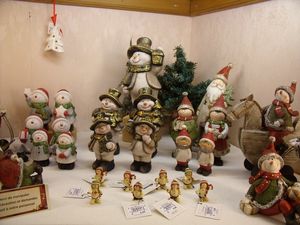 It was a bit puzzling to discover all these things related to Christmas with 30°C outside. But it was also very tempting. I felt like buying everything.
It is not like walking around a Christmas market. The atmosphere is different without cold air, people wearing winter clothes, mulled wine and all the things on sale for presents. It is just as if you were a child in a toy shop. You find all incredible reasons to buy something for your home and tree for Christmas. You "absolutely" need it. Only the cost makes you stop your shopping in the end.
(Cameras are not allowed in most of the shop, so I was only able to take a few)
Partager cet article