WW1 Monument in Bathelémont, dedicated to fallen American soldiers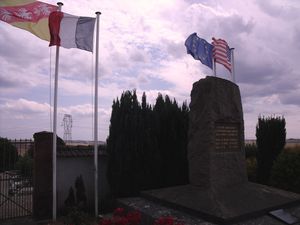 After a meal in Lunéville, we decided to have a tour in the country and enjoy travelling through small villages.
I think I had never stopped in Bathelémont, if I had ever been there. We were driving slowly and arrived near the end of the village when we saw the flags : American, European, French and of Lorraine. An American flag in a small French village is not very common. So we stopped and read the notes on and near the monument.
This monument is dedicated to the first three American soldiers who fell on French soil during WW1. They were killed on November 3rd, 1917, near Bathelémont.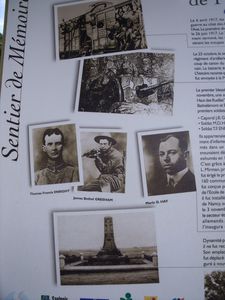 They were called J.B. Gresham buried in Evansville, M.D. Hay buried in Pittsburgh and T.F. Enright buried in Glidden, all belonging to the 16th Infantry Regiment.
The first monument was designed by Louis Majorelle, made by Auguste Vautrin in November 1918 in the village. But it was dynamited by the Germans in 1940 and another monument was built in 1955 and fixed at the end of the village.
The notes near this new monument also say "on October 23rd (1917) the first artillery shot of the American Expeditionary Corps was fired from this village... The cartridge was reputedly sent to the While House in Washington."
A small place but a big history.
Partager cet article