Another trip to TEM in Goviller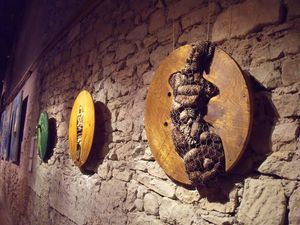 Each year artists are invited to show their work in this space called TEM in Goviller. In 2015, 24 of them have accepted to come during the summer. The exhibition is called EnCore et en coRps (again and in bodies).
As Babayaga, the knitted trailer (see my former article), was in front of TEM, we decided to visit the big farm again. We enjoyed it two years ago, didn't go last year, so we were pleased to see all the work of these artists, most were new ones, I think.
The exhibition was darker (compared to 2013), less bright colours, perhaps because of the subject. There were a lot of links to wars, death. We liked the work but the atmosphere was a bit "heavy", and it was very hot outside and this didn't help, even if the house is old, it was warm inside.
It was worth the trip anyway. These artists did a good job.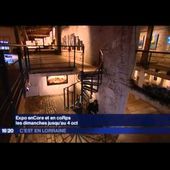 "enCore et en coRps" - TEM expo 2015 - France 3 Lorraine
Reportage de Franck Gaillet et Boris Kratschmar - France 3 "C'est en Lorraine" dans le 19/20 du 9 juin 2015. "enCore et en coRps" - TEM expo 2015 - Plasticiens: Isabelle ADELUS & SURAN, Isabelle ...
The video people could see on French television.
Partager cet article