Street decoration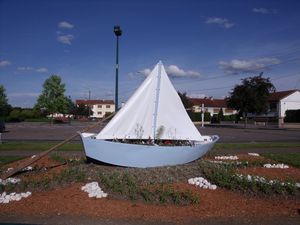 Have you noticed that we see more and more decoration in our streets ? In France, for sure. When I was young, we only had road signs and lights, sometimes trees. Flowers were in parks. Then flowers appeared in streets, very often in big square or rectangular cement grey "pots".
Nowadays all sorts of plants are in the ground, above the ground, in colourful pots, on the pavement, in the middle of the streets... Paintings are made on walls and all sorts of objects can be seen on roundabouts, in parking places, in squares.
We are getting used to it. Most of the time it is linked to the place (an old building or castle, a tradition, a local product) or to an event (an anniversary, a season, a fair).
Two weeks ago I saw this boat on the big parking place of Dombasle-sur-Meurthe. I am a bit puzzled. I didn't expect this sort of boat, a barge wouldn't have surprised me because of the canal de la Marne au Rhin, but this boat wouldn't be seen on the canal, I think, nor on the Meurthe river which is not navigable.
Sometimes the idea of people making street decoration is a bit difficult to figure out.
Partager cet article