From La Petite Pierre in Alsace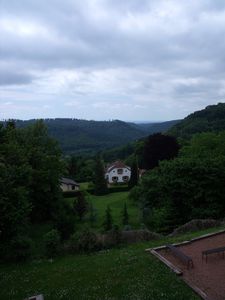 We like La Petite Pierre. This small town is in Alsace if you have to mention the region, but the obvious point is that it is situated in the Vosges mountains.
La Petite Pierre is surrounded by woods. It is nice to walk there. This time we stopped at the restaurant of the Village de Vacances to have lunch and I took this picture as we thought the view was beautiful. It was also calm and pleasant (well, before we all were around tables and started chatting). We enjoyed this break during our tour between Meisenthal and the Lalique museum.
We also had dinner at the same place and had a drink outside before it was served. The view was brighter at that time of the day but I forgot to take another picture. I just appreciated the view and the air while sipping my drink and chatting with friends.
Life is good sometimes.
Partager cet article