WW1 military cemetery in Champenoux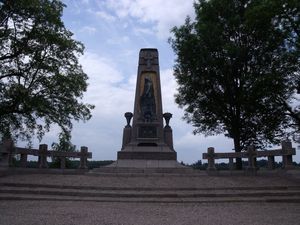 After our walk in the arboretum of Amance, we stopped at the necropolis of Champenoux.
This WW1 French military cemetery was created in 1919. 2862 French soldiers are buried there, most of them killed during the battle of Grand Couronné in August and September 1914. As in Courbesseaux, the sculpture "to the heroes of Grand Couronné" was made by Eugène Gatelet, this time in 1921.
But this necropolis is different from the one in Courbesseaux. It is nearer from houses and also from a busy road, so not as calm. The way it is built makes it similar to the other one which is only a few miles away.
As in Courbesseaux, we thought about all these men who were killed trying to save their country from the enemy. After 100 years, a lot of events are organized not to forget them.
Partager cet article