The house of Joan of Arc in Domremy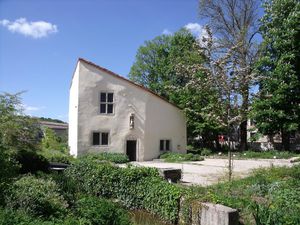 Domremy is a village situated in the Vosges département and the Meuse River goes through it. I have been there several times and each time it was quiet and peaceful. Even last Sunday, and in spite of a spring fair, I kept the idea it is a calm village.
The spring fair was organized with Middle Ages activities and food. Children were training as knights and wearing the same costumes. Drinks had to be paid with écus (crowns). The music was pleasant and people were selling hand-made things.
I wondered if I would be able to take a picture of the house of Joan of Arc because of the activities near it, but the path just in front of the building was free. This house has not changed for centuries. Joan of Arc was born there and lived with her brothers and sister in this place till she left to "kick English people out of France". (That's the way we were taught about it at school).
The house is standing between Saint-Remy church and the Meuse River, on the main road. There is a sign not far from it explaining the village is celebrating the 600th anniversary of the birth of Joan of Arc ;she was born in 1412.
I noticed cars were coming from different places in France but also from abroad to visit Domremy and the house, but there was no crowd and I liked that.
Partager cet article