Exhibition of Citroën 2CV cars in Lunéville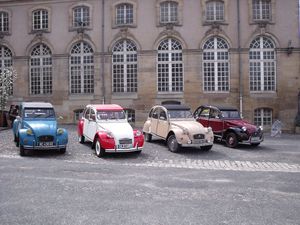 We had read about it on internet. An association of the Vosges was coming to the castle of Lunéville to show Citroën 2CV cars. It was a good opportunity to see these old cars.
Citroën 2CV were made from 1948 to 1990. I have read the first ones were all painted with the same colour. And doors had no lock ! In fact, there was an antitheft to be fixed between the steering wheel and the middle of the front seat.
In the 1980s I wanted to buy a Citroën 2CV, the Charleston one, dark red and black, but my parents said I should not ! I still think this car can go everywhere, even on snow or black ice. It was perfect to go in the country at any time.
In 1951 Citroën factories made the 2CV Fourgonnette to be used for work. Postmen have used it. There was quite a lot of space at the back for a small car.
In France about 160 associations try to keep Citroën 2CV cars to show them but also to drive them. And each time there is an exhibition it is successful.
Partager cet article