Basilique du Bois-Chenu near Domremy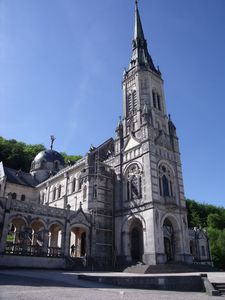 After a visit to the house of Joan of Arc in Domremy, it is common to go to the basilica which is about one mile away.
It was built from 1881 to 1926 near the place where Joan of Arc was tending sheep when she heard the voices of Sainte Catherine, Sainte Marguerite and Saint Michel asking her to help France to be freed from "the English".
Basilique du Bois-Chenu was named after an oak grove which was nearby. There is still a wood at the back of the building. In the front, you can admire meadows and the Meuse River. It is really pleasant. And you stand near the statues of Jacques of Arc and Isabelle Romée, parents of Joan.
A bit further away, near the parking place, there is a big statue of "the voices" and Joan of Arc, dated 1894. You can't miss it as the gilding shines so much in the sun.
In the basilica, there are several big paintings showing the life of Joan of Arc. I particularly liked the ceiling with the cross of Lorraine and fleur de lis. (I always admire ceilings, I don't know why)
In spite of several other visits, I didn't remember how the inside of Basilique du Bois-Chenu was. It was a good opportunity to see it again.
Partager cet article