40th Trophée Loisirs rewards in Val-et-Châtillon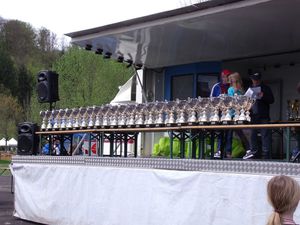 Till last year I didn't know about it, but, as our older son runs regularly, he has explained how the Trophée Loisirs is organized.
From October to May, 9 races take place in 9 different places in Meurthe-et-Moselle. About 10 kilometers to run each time and a ranking for each age group. Each person must run in 7 races at least to be in the last ranking. If he or she runs in more than 7 races, only the 7 with the best ranks are taken into account for the end of the event.
In Val-et-Châtillon, two weeks ago, there was a 10th race in the morning and the trophies were given in the afternoon. People received cups, medals, travel bags, pens, purchase vouchers... We saw a young boy, first of his age group of the Trophée Loisirs, carrying one of these big cups, it was nearly as big as him. Specials cups were given to associations, but also one to the family whose members were the most numerous. 12 people - grandparents,parents, uncles and aunts, children - had joined the event.
Luckily the weather was good in spite of bad weatherforecasts. So it was pleasant to stay outside the whole afternoon and watch all these sporty people.
Partager cet article