French WW1 military cemetery in Courbesseaux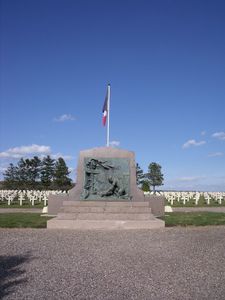 In 1920, a French military cemetery was built in Courbesseaux for the soldiers who died in the area during WW1, a lot during the battle of Grand Couronné in August and September 1914.
There are now 2679 French soldiers in this necropolis, in 976 graves and 2 ossuaries, one on each side of the main path. A lot of names are missing and families may know soldiers died near Courbesseaux but won't be sure where they have been buried.
In the center of the cemetery, Eugène Gatelet, a sculptor, made a monument in 1924. It shows a country man wearing clogs, who is putting flowers on the grave of a soldier mort pour la France (who died for France).
The cemetery is out of the village and from there you can see the countryside. It was beautiful last Sunday, and so peaceful. It is difficult to imagine that 101 years ago this area was the place of a terrible battle which killed so many soldiers but also helped France not to be invaded by German armies.
Partager cet article