Easter 2015 in Lorraine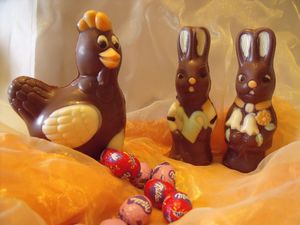 Bells have gone to Rome, so they won't ring till Sunday morning, and they'll bring back eggs to Lorraine, as usual.
Some places had planned Easter egg hunts on Saturday but I read a few minutes ago that some of these towns and villages have postponed the hunt till Monday as the beginning of Easter week end will be too wet. This morning it was freezing, and now it is very dark and it should rain very soon.
By doing my shopping today I had a long look at Easter chocolates. I saw the traditional eggs, bells, hens and rabbits. There were a few big fish too. Usually we can only get very small ones. And on television I discovered a place making loads of Easter chocolates and this year the novelty is.... sheep. The body has got an egg-shape, four pieces for the legs and one for the head are added and the decoration makes plenty of different ones.
A long week end is starting.
I wish you all a HAPPY EASTER TIME.
Partager cet article