Beautiful spring days in Lorraine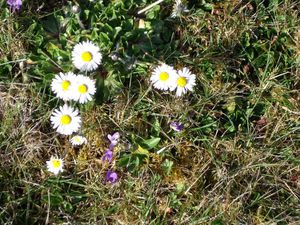 When I wrote the article about spring days two weeks ago, I was happy to have warmer days but pollution had spoiled the beginning of the new season a bit. It is different now.
Apart from Saturday morning, last week was very pleasant and sunny. Yesterday it was warm and so bright again. A lot of people were walking, riding bicycles ; children were playing outside. We all enjoyed this spring day.
To have a change we decided to have a short trip to Hoévile to the viewpoint indicator. We saw the Vosges mountain from there but a bit in the mist.
Then we stopped in Courbesseaux at the French military cemetery. I had not been there for more than forty years. I will write an article about it, there is quite a lot to say about this place.
One sunny week, from Easter Monday, was enough to let daisies and violets flower, and also a few cowslips. And grass is definitely greener. Trees are colourful too.
This week end was perfect to forget all the grey months of last winter. Such a nice change.
Partager cet article