1815-2015, Napoleon and Lorraine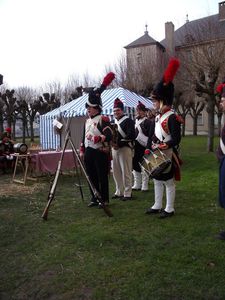 When we were in Pont-à-Mousson in March, an association was celebrating Napoleon years showing what people used to eat at this time but also marching in the corridors with a drummer to draw the attention of visitors.
And in the last few weeks we have seen more about Napoleon on television and about the Cent Jours (a hundred days) when the emperor came back to France in 1815 from Elba Island.
I have checked if Napoleon the emperor, or Bonaparte as he was called earlier, stopped in Lorraine. I am not sure if he did, really. His aide-de-camp is said to have come to Anthelupt, 30 minutes away from Nancy,and asked for food. He only got hard boiled eggs and this is nowadays the name of the inn he stopped at, L'Auberge des Oeufs Durs. Troops of Napoleon have also been near Saint-Avold in Moselle. And his sisters used to go to Plombières in the Vosges to enjoy the spa town.
Well, 200 years later, we speak about him, see his soldiers around but his presence in Lorraine is not obvious. I can't remember about it in my history lessons. Anyway all these costumes are quite pleasant to look at.
Partager cet article