Partial solar eclipse over Lorraine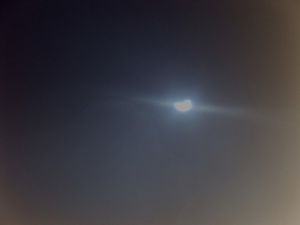 We have heard about the partial solar eclipse for three weeks. This morning it started over Lorraine around 9.30 am and, for once, we were lucky. There was no cloud (apart from pollution mist), no rain and no wind, so we were able to watch it in most places of the region.
I didn't remember where I had put the special glasses that we used in 1999 for the total solar eclipse. I had to ask the children who knew exactly where they were. We had not damaged them at all so I was able to use them.
Then I had to try several times to take pictures with my "simple" camera with the glasses in front of it. I don't have any special filter so it was my DIY trick. The result is not perfect but it worked.
Of course journalists speak a lot about it. The next partial solar eclipse over Lorraine - worth watching - will happen in 2026 and the next total solar eclipse in 2081.
This first day of spring was a bit unusual and a real spring day, at least in Lorraine.
Partager cet article