Maison du Marchand (Merchant's House) in Lunéville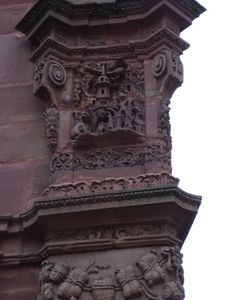 The day of the Foire Grasse in Lunéville is the opportunity to walk in streets without cars around. Arriving at one corner, we noticed an old building made with red sandstone (grès des Vosges), and at about 12 feet high on the corner, there was a sculpture.
We saw the barrels and bundles tied with ropes straight away. Then we saw a church, another one (maybe), the head of an Indian man. There were too many details not to be interested.
After checking for some information, we now know that this house is called la Maison du Marchand (the Merchant's House). It was built in the 18th century and the first owner could be a merchant bringing spices and exotic food to the court of King Stanislas at the castle.
The sculpture shows the goods (barrels and bundles), but also that several countries have been visited (the church, the mosque - with a crescent at the top -, and the head of an Indian man with a hat made of feathers). On the other side of the corner, which I forgot to take a picture of, there are a village, a river and the bow of a ship. All this explaining again about the trips of the merchant.
One more time it was worth walking and looking up.
Partager cet article