Foire Grasse in Lunéville before Shrove Tuesday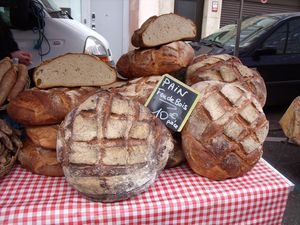 As usual we went to Lunéville this morning to enjoy the Foire Grasse day, the 598th fair ! We are so used to it that I noticed straight away which stallholders were not present : the one who offers the most impressive choice of dried sausages, the ones selling pigs feet, and a few others. They may have gone to Le Val d'Ajol in the Vosges mountains where there was also a fair today.
The man who sells products to shine shoes was not at the same place, but as talkative as the other years. He was not far from the one selling perfumes and the other one selling nail varnish. There were a lot of people selling clothes. The farmer from the Vosges still proposed his vegetables (potatoes - some blue ones -, lettuce, Jerusalem artichokes) and onions to plant or to eat. The butcher was selling black sausage and there was a long queue to buy it as last years. And, as it was cold, people were buying hot drinks (wine or coffee) but also some pâtés lorrains hot and ready to be eaten.
We met several friends and colleagues, had a pleasant chat and did our shopping at the end of the visit : honey (fir tree and woods, - no, it is not the same), dried sausages (seven sorts !), cheese (marvelous but a bit expensive I must say), pretzels (the big ones) and chocolate-coated marshmallow treats (a big box, wow !). I admired the bread but didn't buy any, next year maybe.
Partager cet article