Snow again in Lorraine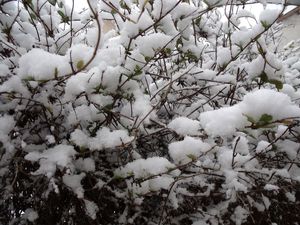 I should have called this article Snow at week ends in Lorraine. Snow is falling for the second time this winter near Nancy and it happens just when our week end starts.
We saw the first flakes this morning, around 11 am here, and it stopped about two hours later, with between one and two inches of snow on the ground. And it has been snowing again, for one hour, but more slowly, more gently.
People are advised to drive carefully but we are not on an amber warning. Ski resorts in the Vosges are happy with this weather, and in the "flat" part of Lorraine. Children enjoy it too, adults maybe a bit less.
After a tiring beginning of January, it is relaxing to watch snow falling, to appreciate this white colour everywhere. I will have to feed birds : robins, great tits and blue tits mainly and one black bird coming very early in the morning before all the others. Our dog will roll in the snow and I will have to clean the pavement in front of the house. The usual winter routine.
Partager cet article