Old bed in Vaudémont in Lorraine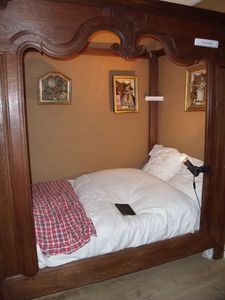 On a cold snowy day as today I feel like staying under a duvet in my bed. When I was a young girl, we didn't have duvets at home but eiderdowns, without seams to make them flat so big eiderdowns, and so warm. I remember that sometimes the end of a feather was appearing through the fabric and I couldn't help pulling it. And the mattress was not hard so, after a few years, we had our "hole" in the middle, so cosy.
The bed we saw last summer in Ferme Duval in Vaudémont near Sion was older than the one I had, but made me think about it. In fact we found one similar to this one in our old house when we bought it. It was not far from the open chimney, in a room in the middle of the house getting light from a skylight on the roof (une flamande as we call it here). The mattress was filled with maize leaves ! The bed was such in a bad state that it couldn't be kept.
I appreciate my "modern" bed (my back even more than me) but I am sure these old beds were really appreciated at a time there was no central heating in houses, with long and cold winters.
Ferme Duval is an old typical farm of Lorraine with the part for the family and the part for cattle and tools.
Partager cet article