Last news from Father Christmas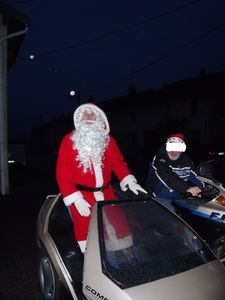 The 25th of December is very near now so it is time to check everything before the long trip around the world.
No problem with the costume this year ! Father Christmas has been on a diet (really ?) since last year. He complained a bit about his boots and had to clean them, the elves are too busy to do it. I wonder if he should go to the hairdresser's, beard and hair are a bit tousled and it is windy when he is in the sleigh.
As it is better to anticipate, and for his own pleasure too, Father Christmas decided to try a new way to travel in case a problem happens with the reindeers. So he went into a sidecar called Comète. Comet, the reindeer, is still having a rest with his friends before the big day.
And to be sure children are ready, he had a go to a local Christmas market. Children are definitely looking forward to getting their Christmas presents. They said they were kind and quiet all year long (!!!).
The mechanical Comet was quick and comfortable but will be used only if a very big problem happens with the reindeers. Father Christmas likes his trip with them and he doesn't need any driver in this case so the elf chief would be free to enjoy Christmas Eve.
Now we all have to get ready for Christmas. Hurry up !
Partager cet article