Bredele for Christmas time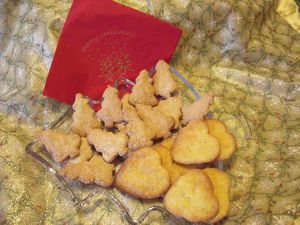 In the 1960s, I didn't know about bredele, the Christmas biscuits made in Alsace, and also in Germany. We used to make cakes at home but not Christmas biscuits, we made Yule logs too.
Then, in the 1970s, I had a German penfriend who used to send me Christmas biscuits and I loved them. The tradition arrived in our area at about the same time and people started making "spritz" with a special machine. Other recipes arrived later.
Nowadays we all know about bredele, the Alsatian name for all Christmas biscuits. We either make them or buy them. I think I don't know anybody who doesn't like them. There are so many recipes one always finds a good one to like. In fact each family in Alsace has got different recipes given by older generations. The ingredients are often almond power or hazelnut powder, cinnamon or other spices and, above all, you need pastry cutters with different shapes : fit tree, moon, star, bell...
Alsatian recipes are very "bounteous" so you get enough biscuits to enjoy them till Christmas and even afterwards.
Partager cet article