A trip to Saint-Nicolas-de-Port on saint Nicolas' Day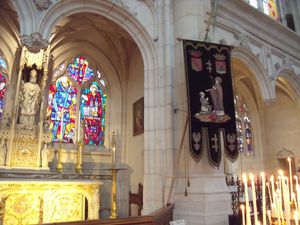 Each year I go to Saint-Nicolas-de-Port on the day of the celebration of saint Nicolas. This afternoon was grey but not cold for my walk in the town.
This time I had to park further away and I walked up the main street and had a look at shops on my way to the basilica. I entered through the side door, stopped near saint Nicolas' statue where plenty of candles were lit and I noticed the picture of Sire de Réchicourt on the right. There were a few pilgrims inside already. Then I walked out through the back door.
I went further up in town to saint Nicolas' market. It was quite similar to the one I saw last year. There were hand made things (jewels, cards, toys...) and products with saint Nicolas printed on them (balloons, biscuits, beer, tiles, cards...). The music was a bit loud but pleasant and children were already asking for cotton candy.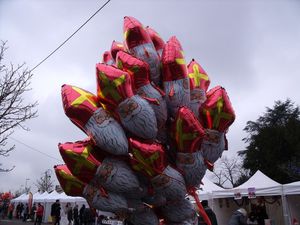 Then it was time for me to go back home. I walked through the basilica again, there were more people near the statue and the relics.
I decided to stop at the tourist office nearby and... saint Nicolas was there ! We spoke together, reminded the time my children were so surprised when he told them not to leave their sweets near their father who would eat them. "How does he know, Mum ?" "Well, it is a long story, he also met your father when he was a child."
I wished the good saint a pleasant evening, knowing he would be very busy in the coming hours. And by arriving near my car, bells started ringing, it was the song for saint Nicolas, to celebrate the patron saint of Lorraine.
Partager cet article