Missing the Vosges mountains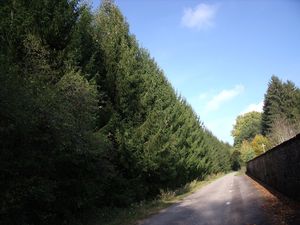 I haven't been to the Vosges mountains for several months now and I miss them. I miss all these fir trees, the smell in the woods and the colours in autumn too. So when we went to Bertrambois last week, I was really happy to see all the trees and, most of all, I was surprised to breathe so pure air.
We live in the country and I rarely complain about the quality of air, only the smell sometimes ("manure days" remind us where we are). But the air in Bertrambois was cool and... pure, I could smell the difference, definitely. This village is at the bottom of Le Donon, just at the beginning of the Vosges forests. You can find small roads, quiet places to drive around and Bertrambois is the village of my mother's family.
It has already snowed on the highest part of the Vosges, but leaves are still showing their beautiful colours from the videos we can see on television. Maybe I could do a trip there before Christmas just to stop there or on the way to visit one Christmas market.
Partager cet article