All Saints' Day 2014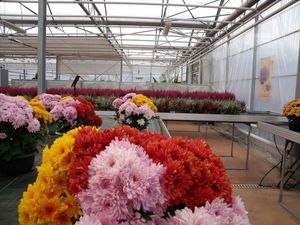 We don't work in France on All Saints' Day, or should I say that we "didn't use to work" on this day ? This year, as the first on November happened on a Saturday, quite a few shops were opened, especially to buy food. But the tradition has been kept.
A lot of people have bought flowers to put on graves. I saw chrysanthemums, heathers and cyclamen plants in shops, mainly. All this was similar to last year's choice apart from heathers. There were new pots with three colours (dark pink, pale pink and white), less classic. Cyclamen pots are not numerous as this flower is fragile when it starts freezing in Lorraine, and it could happen in the coming week.
As far as chrysanthemums are concerned, I haven't noticed one colour dominating the others. The choice of white ones was perhaps a bit more important than usual, and the colours were not as dark as last year.
I heard on the radio last week that the weather has been really good to grow these flowers. It may explain why prices were cheaper.
I forgot to mention there were pansies too. I should have taken a picture, they are always lovely flowers to look at and they don't mind our cold weather.
Partager cet article