Magic spells and potions near Halloween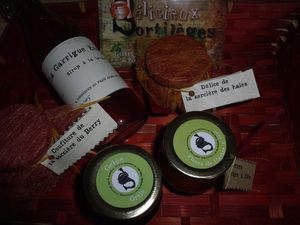 On Saturday I met a witch who explained about her knowledge of plants and how to use them and also a woman who explained how to recognize plants and berries in woods. Halloween is not very far and some people are getting ready.
I stood in front of the witch when she was showing children how to cook plants, asking them what could happen if spells were used. All the little ones were really interested. And when she said "Do you think there is a bad spirit near us ? This person could be changed into a toad !" They all turned their heads checking adult faces. We, adults, were relieved we were still standing on two legs.
Then I walked a bit further and checked what was on sale at the échoppe de la sorcière (witch stall). I saw elder flower jam called "fairy tree jam" as fairies live in this tree, nettles jelly, lavender syrup, rose hip jelly by the witch of rose bush and others I have forgotten. I chose a few to enjoy during this winter. All these potions seem really good.
In the morning, children had prepared a chocolate fondant with "toad drool". I didn't see it but adults said they were as enthusiastic as in the afternoon. Halloween starts little by little in the area. (And the last Harry Potter film was on television yesterday evening, this helps too)
Partager cet article